Are you approaching menopause and struggling with your hormones?
Are you concerned about your thyroid health?
Has it been a while since you've had a full physical exam but don't have a family doctor?
Are you taking some medications and would like a healthcare professional to review your healthcare needs in case something needs to be updated or changed?
We might have a solution for you and your family.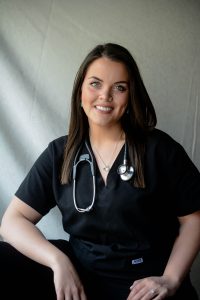 We are so excited to introduce the newest member of our team!
Malorie Peters, MN NP is a Registered Nurse with a focused masters education specializing in primary care practice. Malorie is passionate about holistic health care and brings an enormous amount of medical experience and knowledge to our team.
Why A Nurse Practitioner?
As we face increased demands on our healthcare system across the country/province, NP's are playing a vital role in our communities.
How Can a Nurse Practitioner Help You?
Provide relief from long wait times and a shortage of doctors

Offer same-day access to care for acute reasons

Bridge the gap for many trying to access quality healthcare

Provide treatment and assessment options for women's and men's health
What Else Can a Nurse Practitioner Do for You?
Autonomously diagnose and treat illnesses (both chronic and acute)

Order and interpret tests (blood tests, ultrasound, mammogram, x-rays, CT)

Prescribe medications and refills

Perform medical procedures (lesion removal, suturing, PAP tests, IV treatments)

Provide consultations and referrals
Types of Visits
Adult Physical Exams

 

Well Baby/Child Visits
Chronic Disease Management (diabetes, hypertension, heart disease)
Mental Health Care (anxiety, depression, ADHD, eating disorders)
Women's Health (hormonal therapy, pelvic pain, family planning/fertility, etc.)
Prenatal and Postpartum Care
Senior Support (life transition care and support for caregivers)
Common Conditions (thyroid disease, urinary incontinence, skin issues)
Sexual Health (contraception options and STI testing)
Minor or Acute Illness & Injury (UTI, respiratory illness)
Hormonal Health (men & women)
SGI Exams and WCB Forms Offered
Malorie will be joining our clinic in May. Please call the clinic to schedule with Malorie at 306-373-5209.