This fresh, dill-y cucumber salad gets its creaminess from ripe avocados that are packed with healthy fats and fibre. Avocados make a great addition to your diet if you find yourself getting hungry between meals and are looking for a nutritious food that will help to keep you feeling full.
Fresh dill, rich in Vitamin C and a source of antioxidants, brings a fun flavour to the dish.
This salad is suitable for vegan and gluten-free diets and takes less than 15 minutes to put together. Keep reading to find out how to make it!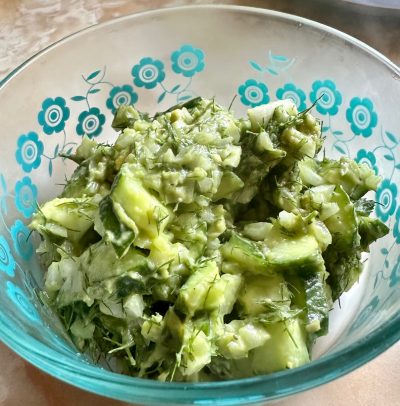 Ingredients
2 fully ripe avocados
1 english cucumber, diced
1/4 medium white onion, finely chopped
1/3 cup fresh dill, chopped
4 tbsp rice vinegar
2 tsp mustard
salt and pepper to taste
Directions
Mash avocados into a medium sized bowl.
Stir in remaining ingredients.
Enjoy!
Recipe and photo by Chinonso Miniely