This dairy-free pesto features earthy and aromatic sage and pistachios, instead of the basil and pine nuts used in traditional pesto.
Sage has been used for centuries in folk medicine for a range of ailments, and recent research suggests that the herb boasts anti-inflammatory, antioxidant, and antimicrobial properties!
Nutritional yeast compliments the nutty flavour of the pesto and adds a hint of cheesiness, so you won't miss the dairy.
Pesto is a great way to add a healthy punch of flavour to a variety of dishes, from salads to meat dishes, soups, and more!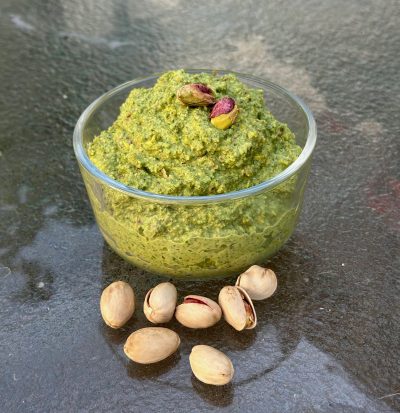 Ingredients
1 cup spinach
1 cup sage (you can adjust your ratio of greens and use more spinach, less sage if you want a less intense flavour)
2 tbsp lemon juice
1/2 cup pistachios, shelled
1 clove garlic
1/3 cup olive oil
2 tbsp nutritional yeast
1/2 tsp salt
Directions
Add all ingredients to a blender or food processor and pulse until desired texture is reached. Works well as a dip, a topping for pizza or pasta, and as an addition to salad dressings and marinades!