This gluten-free beet pancake recipe subtly incorporates the famously pigmented superfood. If you love beets, you may be pleasantly surprised to learn they come with a list of proven health benefits! If you're on the fence about beets, keep reading. Mixing the beets into a pancake batter and topping them with sweet berries and a drizzle of maple syrup might be the perfect way for you to incorporate this healthy food without really having to taste it.
Maybe you've seen beet root supplements or powders on the shelves at the health food store and wondered what the hype was about. In research studies*, beets have demonstrated anti-oxidant, anti-inflammatory, and vascular-protective effects. This recipe only contains a couple beets, but it's one easy way to incorporate more of them into your diet.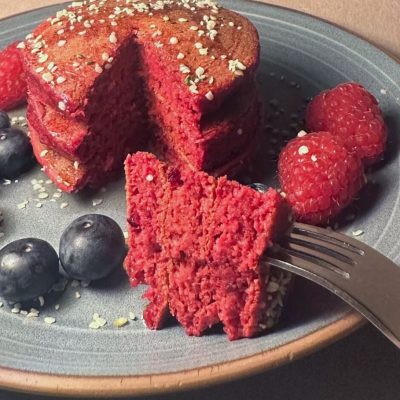 This recipe includes extra fiber from oats and psyllium fiber, two more heart-healthy ingredients. Despite being healthy, these beet pancakes are still delicious. Once you've roasted the beets, the rest of the recipe can be processed in your blender, making for an easy clean-up. This recipe makes about 12 small pancakes.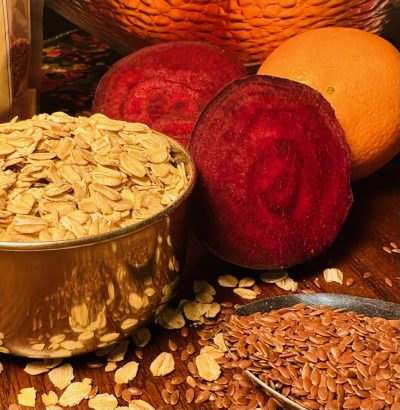 Ingredients
2 c oats
2 tsp baking powder
1 1/2 tbsp psyllium powder
4 eggs
1 c roasted beets (about 2 beets)
1/4 c apple sauce
1 c water or milk of your choice
1 tbsp orange zest
Directions:
Roast your beets at 400 degrees. You can either peel and cut your beets into 1 inch chunks for a faster cooking time (about 30 minutes), or wrap your beets in tinfoil and cook them whole (about an hour). Either way, be sure to thoroughly wash your beets, trim and discard tips, stems, and leaves, and coat your beets in some olive oil before roasting. Cook until fork tender.
When ready, remove your beets from the oven and wait until they are cool enough to handle. If you left your beets whole, remove the peel and cut the beets into pieces that will easily break down in your blender (at least in half). Set beets aside.
Use a food processor or blender to grind your oats into a flour.
Once the oats are a fine powder, add remaining ingredients to your blender and blend until smooth.
Heat a pan over medium low heat.
Spoon or pour pancake batter into pan and cook until edges are set (about 2-3 minutes). Flip and continue to cook on the other side for another 2-3 minutes or until done.
Add your choice of pancake toppings and enjoy!
Photos and recipe by Chinonso Miniely 
Resources:
Clifford T, Howatson G, West DJ, Stevenson EJ. The potential benefits of red beetroot supplementation in health and disease. Nutrients. 2015 Apr 14;7(4):2801-22. doi: 10.3390/nu7042801. PMID: 25875121; PMCID: PMC4425174.