These easy gluten-free crackers go well with dips like guacamole or hummus and make a healthy snack that is packed with gut-friendly fiber!
The seeds in this recipe provide a source of healthy fats and protein. The crackers take about an hour to come together, but they store well for a handy snack throughout the week.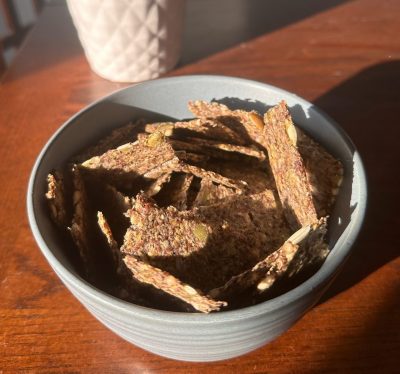 Ingredients:
3 tbsp sunflower seeds
3 tbsp pumpkin seeds
2 tbsp chia seeds
1 tbsp hemp hearts
2 tbsp psyllium husk
1/3 c ground flax
1/2 tsp salt
3/4 c water
1 tbsp seasonings (I used everything bagel seasoning)
Directions:
1. Preheat oven to 300 degrees Fahrenheit.
2. Mix dry ingredients together, then add water and stir for about 1 minute, or until about the consistency of porridge. Be sure not to let mixture sit for too long, as it will become hard to spread.
3. Lay out a sheet of parchment paper large enough to fit your rolled out cracker dough (which will spread to about 12 x 14 inches). Dump your dough onto the middle of the parchment paper. Then cut another sheet of parchment paper to the same size. Lay this on top of your batter, so you should have a parchment paper – dough – parchment paper sandwich.
4. Use a rolling pin to roll out your batter between the sheets of parchment paper. Roll it out as thin as possible – until it's about 12 x 14 inches. Once it's rolled out, transfer the dough, still sandwiched between the parchment paper, onto a baking sheet.
5. Bake for 15 minutes, then remove from oven and peel off the top sheet of parchment paper. Use a sharp knife to cut lines into the dough where you will want to break apart your finished crackers – cutting the dough isn't necessary, as the finished product is easy to break apart, but it's a good idea if you want uniformly sized crackers.
6. Return crackers to oven and continue baking an additional 25-30 minutes, or until dehydrated.
7. Remove from oven and let cool completely. Once cooled, break apart and enjoy! The crackers store for up to two weeks in an airtight container at room temperature.
Recipe and photo by Chinonso Miniely