Did you know that dates are a dietary source of antioxidants and important minerals, including selenium, copper, potassium, and magnesium? In spite of their sugar content, dates are low-medium on the glycemic index scale, making them likely to cause less of a spike in blood sugar when compared to white or brown sugar.
These banana date muffins are easy to make and packed with fiber with a toasted nut topping that provides a source of healthy fats. Because of the sweetness of the banana and dates, the only added sugar is in the crispy topping, which you can leave out for a lower sugar option.
Be sure to use gluten-free oats to make this recipe gluten-free!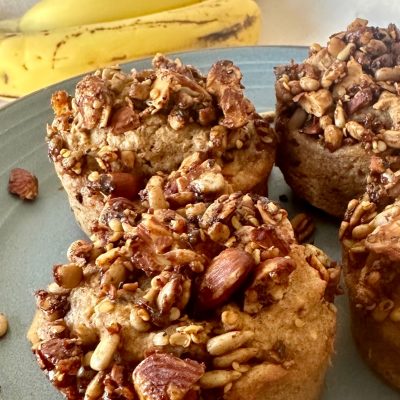 Ingredients:
For muffins
2 cups oats (quick or rolled will both work, as they will be ground into a flour)
3 ripe bananas, OR 1 ripe banana and 1 cup unsweetened applesauce for a lower sugar option
2 eggs
8-9 pitted Medjool dates
2 tsp baking powder
1/2 tsp salt
1/2 tsp cinnamon
1/2 tsp nutmeg
1 tsp vanilla extract
For topping (optional)
1/4 cup sunflower seeds
1/4 cup almonds
1/4 cup pumpkin seeds
1 tbsp hemp hearts
1/2 tsp cinnamon
1/4 tsp ground cloves
pinch of salt
2 tbsp maple syrup
2 tbsp melted butter or coconut oil
Directions:
If making the topping, preheat oven to 325 and line a baking sheet with parchment paper. If skipping the topping, jump to step 4.
Mix all topping ingredients together in a medium bowl, then spread evenly along baking sheet.
Bake 10 minutes or until slightly browned. Set aside.
Turn oven up to 350 and grease 12 muffin tins or line with cupcake liners.
Use a blender to grind oats into a flour, then add the rest of your ingredients to the blender and blend until smooth.
Spoon or pour batter into muffin tins and sprinkle reserved topping (if using) on top of each muffin.
Bake 17-20 minutes.
Enjoy!
Recipe and photo by Chinonso Miniely
Resources: 
Alkaabi JM, Al-Dabbagh B, Ahmad S, Saadi HF, Gariballa S, Ghazali MA. Glycemic indices of five varieties of dates in healthy and diabetic subjects. Nutr J. 2011 May 28;10:59. doi: 10.1186/1475-2891-10-59. PMID: 21619670; PMCID: PMC3112406.
Salomón-Torres R, Ortiz-Uribe N, Valdez-Salas B, Rosas-González N, García-González C, Chávez D, Córdova-Guerrero I, Díaz-Rubio L, Haro-Vázquez MDP, Mijangos-Montiel JL, Morales-Maza A, Mahadevan P, Krueger R. Nutritional assessment, phytochemical composition and antioxidant analysis of the pulp and seed of medjool date grown in Mexico. PeerJ. 2019 Jul 17;7:e6821. doi: 10.7717/peerj.6821. PMID: 31360620; PMCID: PMC6648623.