For those of us who may have veered off course with our meals over the holidays, this nourishing winter soup is a great starting point to get back on track. It packs in some extra nutrients and is easy to make, store and reheat.
The nutritional stars of this recipe are shiitake mushrooms and miso paste.
Miso is a delicious Japanese fermented soy paste loaded with umami flavour that has a long-standing reputation for its health benefits. The fermentation process results in the presence of beneficial compounds, including enzymes and probiotics. A recent study in mice even showed that ingestion of miso improved the animals' immune response!*
Shiitake Mushrooms are a flavourful mushroom that have been used for centuries for their medicinal properties. Studies have shown that these mushrooms demonstrate anti-inflammatory and antioxidant activity.*
Our recipe is plants-only, but you can add in your leftover chicken or turkey for an extra punch of protein.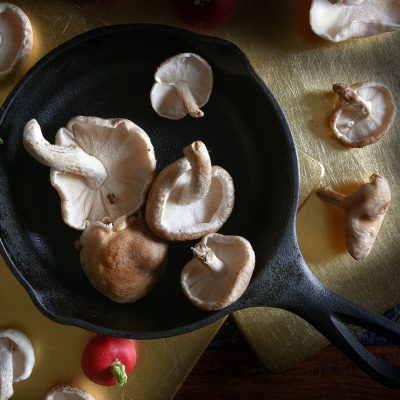 Ingredients
Olive Oil – 1 tbsp 
Garlic – 3 cloves, minced
Turmeric – 1 tsp dried, or 1 tbsp of paste or freshly grated
Ginger – 2 tsp freshly grated
Onion – 1 large, diced
Celery – 1 rib, diced
Carrot – 1 large, diced
Shiitake Mushrooms – 1/2 lb fresh
Dulse flakes (optional) – 1.5 tbsp  
Miso paste – 3 tbsp
Water – 6 cups (or use broth) 
Salt and pepper, to taste
Directions
Prep your mushrooms – Gently wash your mushrooms and cut off any tough spots on the stem (including the very bottom of the stem). Blot the mushrooms with a paper towel or clean kitchen towel to dry. Slice or dice your mushrooms as desired.
Heat your olive oil in a large pot over medium heat. Add diced onions and sauté until translucent.
Add garlic and ginger and continue to cook until fragrant.
Add celery, carrots, and mushrooms and cook for about 10 minutes, stirring occasionally.
Add your remaining ingredients and bring to a boil.
If you're adding in extra protein, add it now, then turn down heat to a simmer for 15-20 minutes.
Add salt and pepper to taste.
Enjoy!
*Resources
Kotake K, Kumazawa T, Nakamura K, Shimizu Y, Ayabe T, Adachi T. Ingestion of miso regulates immunological robustness in mice. PLoS One. 2022 Jan 21;17(1):e0261680. doi: 10.1371/journal.pone.0261680. PMID: 35061718; PMCID: PMC8782471.
Diallo I, Boudard F, Morel S, Vitou M, Guzman C, Saint N, Michel A, Rapior S, Traoré L, Poucheret P, Fons F. Antioxidant and Anti-Inflammatory Potential of Shiitake Culinary-Medicinal Mushroom, Lentinus edodes (Agaricomycetes), Sporophores from Various Culture Conditions. Int J Med Mushrooms. 2020;22(6):535-546. doi: 10.1615/IntJMedMushrooms.2020034864. PMID: 32865895.