These sausage patties are easy to make and are also full of flavour.  If you are hesitant about using pork, see my note at the bottom about how the right kind of pork can be healthy for you in moderation. I usually double this recipe so I can send these in my kids' lunches AND eat them for lunch myself.
I often cook these up and then use the leftover drippings to make a quick vegetable stir fry (or sometimes I just make a big batch of brussel sprouts).  Then I just crumble up a patty or two to mix with some of the veggies, add some salt and pepper and olive oil, and voila – my lunch for the week!
This recipe makes 8-10 patties.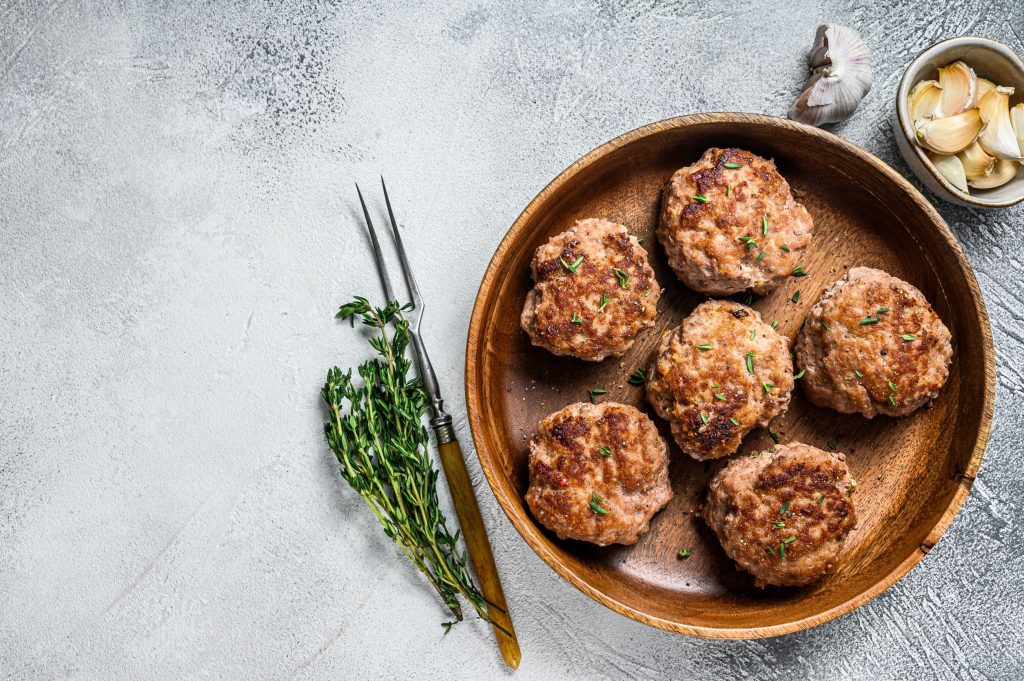 Ingredients:
1 lb ground pork – see note

½ tsp dried, powdered sage (or 1 tsp dried sage leaves)

Optional: ¼ – ½ tsp cayenne pepper
Directions:
Let pork sit at room temperature for a few minutes so it is easy to mix with your hands.
Put all spices into a bowl and mix well.
Add pork and mix with hands until spices are evenly incorporated throughout the meat.
Form meat into balls and then press them into small patties.
Fry sausage patties in a frying pan over medium heat until cooked through, about 10 – 15 min, depending how thick they are.  Pork is cooked through when it is no longer pink in the middle and the juices run clear, so cut one open to check before you take them out of the pan.
Note: I recommend buying pastured pork from a local farmer rather than getting it from a grocery store if possible.  Not only will you be supporting your local farmers, but you will get a much higher quality meat with a healthier fat profile that you don't have to be afraid of.  Fat from pastured meats is anti-inflammatory and good for you in moderation.  The health concerns around red meats like pork and beef are largely because the conventional way of feeding and housing pigs and cows creates meat full of pro-inflammatory fats and stress hormones.  You can avoid all of these issues by choosing local, pastured red meats for your diet.
If you're interested in exploring this route, I get all my pastured meats from Cool Springs Ranch: https://coolsprings.ca/ (I choose to promote this company because I love their products. I do not receive any compensation for the recommendation.)
Check out other healthy recipes here.