This week's easy meal prep recipe is a mediterranean stir-fry, perfect for when you are craving a salty, filling meal – maybe the kind of craving that normally leads you straight to your favourite food delivery app or to the fast food drive thru on your way home after a long day.
Try taking 30 minutes at the beginning of your week to make this vegetable-loaded, flavourful stir-fry that you can store in the fridge for a convenient lunch or evening meal (or breakfast – why not?!).
This recipe is gluten-free, dairy-free, and can be made without the meat for a vegan option. Enjoy it alone or over rice, greens, zucchini noodles, roasted sweet potatoes, or whatever you'd like.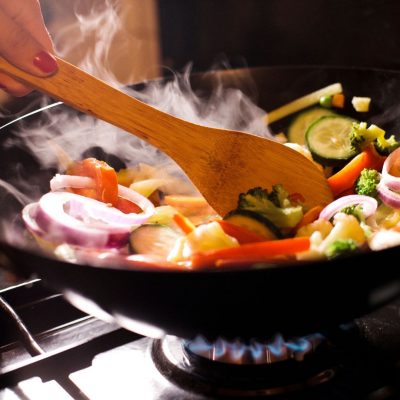 Ingredients:
1 lb lean ground beef (grass-fed if possible)
2 tbsp olive or avocado oil
1 red onion, sliced
3-4 garlic cloves, minced
2 cups cherry tomatoes, halved
(Below are my suggestions for veggies, but you can really use whatever ones you like best)
1 orange or red bell pepper, diced
2 medium zucchini, sliced
1 head broccoli, chopped into small florets
1/2 cup pitted olives
1 tbsp balsamic vinegar
1 tsp dried oregano
1 tsp dried basil
1/2 tsp red pepper flakes
salt and pepper to taste
Directions:
Heat a large frying pan over medium-high heat. Add ground beef and break up with a spatula or wooden spoon while cooking. Add half of seasonings, then cook until browned. Drain excess fat and transfer to a bowl.
Return pan to medium-high heat and add oil. Add onions and broccoli to pan and cook 3-4 minutes, stirring often.
Add bell peppers and zucchini and cook for another 2-3 minutes.
Add garlic and cook for another minute or until fragrant.
Add in tomatoes, olives and remaining seasonings. Cover and cook for about 5 minutes until tomatoes are saucy.
Add in cooked ground beef and balsamic vinegar. Stir until well combined.
Enjoy!
Written by: Chinonso Miniely