This week's easy meal prep recipe is a sweet snack to keep on hand for when a sugar craving strikes. They can be made in under 30 minutes and are vegan, gluten-free and dairy-free.
Puffed quinoa is rich in fibre and protein, and the fat from the quinoa and nuts makes the snack more filling. The nutty flavour of the quinoa blends perfectly with the nut butter for a tasty and satisfying treat.
You can find puffed quinoa at your local health food store, or you can easily make your own puffed quinoa by simply adding quinoa in a single layer to a pan over medium-high heat and cooking for 1-3 minutes, or until quinoa pops. Just like when you're making popcorn, be sure to shake the pan while cooking to keep the quinoa from burning.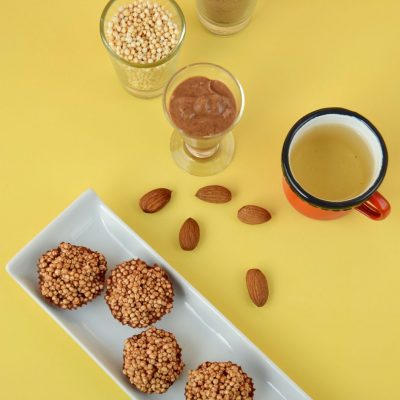 Ingredients:
1 cup puffed quinoa
1/2 cup natural nut butter of your choice (peanut, almond, and sunflower seed butters work great)
1–4 tbsp agave nectar (depending how sweet you want it)
1 tsp vanilla extract
Directions:
Combine the nut butter, agave and vanilla.
Stir in puffed quinoa.
Place in fridge for 15 min if really soft, then roll into balls.
Store in the fridge for up to 5 days or freeze to enjoy later!
Recipe by Jessica Webb