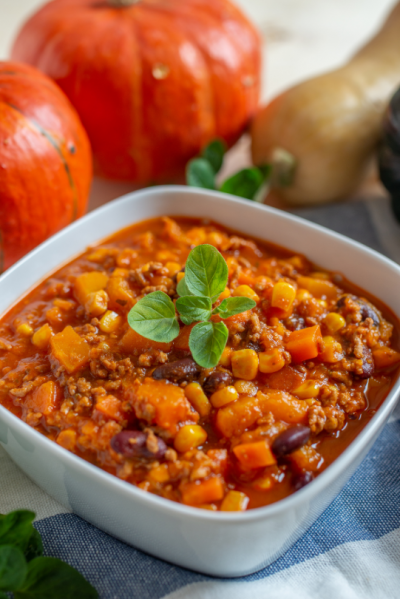 This comforting fall chili recipe incorporates vitamin and fibre-rich pumpkin puree and uses chicken instead of beef for those looking for a leaner source of protein (of course you can substitute beef instead of chicken if you prefer!)
Keep reading to learn how to make this hearty pumpkin chicken chili!
Ingredients
1 tablespoon olive oil
1 large onion, chopped
3 cloves garlic, minced
1 bell pepper, diced
1 pound ground chicken
2 cups canned plain pumpkin puree
1 can (15 oz) kidney beans (or whatever beans you prefer), drained and rinsed
1 can (15 oz) diced tomatoes
2 cups chicken broth
2 tablespoons chili powder
1 teaspoon ground cumin
1/2 teaspoon cayenne pepper (adjust to taste)
Salt and pepper to taste
Instructions:
In a large pot, heat olive oil over medium heat. Add the chopped onion and bell pepper. Sauté for 3-4 minutes, until the vegetables are softened.
Add the ground chicken and cook until browned and no pink remains (about 5-8 minutes). Add garlic and continue to cook for another 1-2 minutes, until fragrant.
Stir in the pumpkin puree, beans, diced tomatoes with juice, chicken broth, and seasonings. Stir well to combine.
Bring the mixture to a boil, then reduce the heat to low. Cover the pot and let simmer for about 20-30 minutes for flavours to come together.
Taste and adjust the seasoning if needed.
Serve hot and enjoy your pumpkin chicken chili!