There's nothing like the pop of colour and crunch that you get from eating fresh vegetables. For the gardeners and farmers market-goers reading, bookmark this recipe to enjoy in the summer with the full flavor of home-grown veggies from your garden harvest or market haul!
For a quick version, use canned black beans and enjoy this recipe in under a half hour. This recipe is gluten and dairy free and can make an easy dip or topping for a variety of dishes – it pairs great with white fish or grilled chicken.
Ingredients:
Corn – 1 can
Black beans – 1 can or 1/2 cup dried beans if cooking yourself
Red bell pepper – 1 bell pepper, diced, with seeds removed
Cilantro – 1/4 cup, chopped
Lime – 1 lime, juiced
Red onion – 1/2 small red onion, diced
Garlic – 1 clove
Green onion – 3 green onions, sliced
Tomato – 1 tomato, diced
Jalapeno pepper (optional) – 1 pepper, diced, with seeds removed
Salt and pepper to season
*If you are cooking your black beans, you may want to add onion, garlic, or other aromatics to your water when cooking for extra flavour!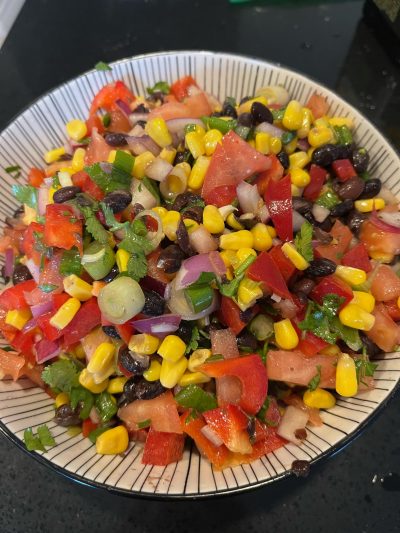 Directions:
If you are cooking your beans, allow them to soak the night before or at least for a few hours before cooking. When ready to cook, drain your beans then add them to a pot and cover with about 4 inches of water (if adding aromatics to your pot, add them now, and remove them when the beans are done cooking). Bring to a boil, then after 10 minutes reduce to a simmer and cover to continue cooking for 1-2 hours or until tender. Check and stir occasionally and add water if needed. Strain beans when done and allow to cool before adding to your salsa.
Combine all ingredients in a medium-sized bowl and stir until well mixed. Serve with tortilla chips or as a topping for wraps, salad bowls, chicken, fish, or whatever you'd like!
Recipe by: Dr. Jacqui Fleury, ND