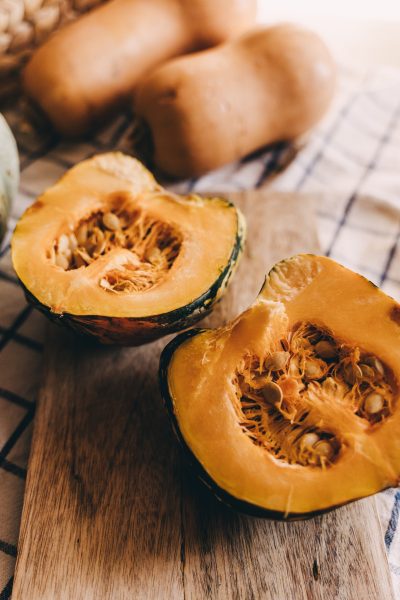 This hearty fall dish features protein-rich lentils and earthy, fibre-loaded mushrooms packed into acorn squash, a versatile seasonal vegetable that is packed with immune-supportive vitamin C, vitamin A, and antioxidants. 
This lentil and mushroom stuffed squash also makes an excellent gluten-free and dairy-free option to keep in mind for the holidays. 
Keep reading for the full recipe. 
Ingredients:
1 acorn squash, halved and seeds removed
1/2 cup green or brown lentils, rinsed
1 1/2 cups cups vegetable broth
1 tablespoon olive oil
1 onion, diced
2 cloves garlic, minced
1 cup mushrooms, chopped
1 teaspoon dried thyme
Salt and pepper to taste
Directions
Preheat oven to 375°F

Place the squash halves cut side down in a baking dish. Add about ¼ inch of water to the dish, then bake the squash for 30 minutes, or until starting to soften. 

Pour the vegetable broth into a saucepan and add lentils. Bring to a boil, then reduce heat to low. Cover and cook for about 20 minutes.

Meanwhile, add olive oil to a frying pan. Add onion and garlic and cook for a few minutes until translucent. 

Add chopped mushrooms, thyme, and salt and pepper. Continue to cook until you have cooked the moisture out of the mushrooms. 

When the lentils are done, combine them with the mushroom mixture. 

When squashes have cooked for 30 minutes, remove them from the oven and stuff each half with the lentil and mushroom mixture. 

Return the stuffed squashes to the oven and bake for an additional 30 minutes, until easily pierced with a fork.