I got a recipe book for Christmas this year that I absolutely love.  It's called Vegetables: A Love Story, and it's written by local author/cook/baker/food blogger/Star Phoenix columnist Renee Kohlman.  If you are already a veggie lover, this book will deepen your love affair with vegetables.  If you're not a veggie lover, this book may very well convert you.
My favorite recipe so far is the Asparagus Soup.  It was so velvety smooth and full of flavor that I couldn't stop eating it, and it was very simple to make – only a few ingredients.  Unfortunately for me, one of the ingredients is whipped cream, which does not agree with my stomach.
Luckily, I have a great alternative, so I tried it out and it worked beautifully.  I've shared the recipe below for anyone who also needs a dairy-free cream alternative for recipes.
This cashew cream recipe will make more than you probably need, so the extra can be frozen and used later.  Or you can do what I did and use the leftovers to make chocolate pudding.  I just added cocoa powder and sweetener until my taste buds said "delicious," and then promptly ate it all.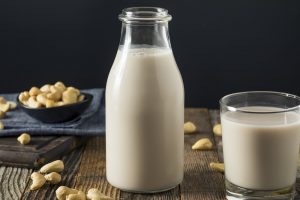 Cashew Cream – A dairy-free replacement for cream
Makes: about 2 cups
Ingredients: 
1 cup cashews or macadamia nuts (raw preferably, but you can use roasted/salted if that's all you have)

Pinch of salt (skip this if you used salted nuts)
Soak nuts overnight in water – at least 12 hours, but not more than 24.  If you need this ASAP, you can also boil them in water for 30 minutes instead of soaking them.

Strain soaked/boiled nuts and put them into a blender or food processor with ¼ cup water and the salt.  Blend on low, increasing the speed slowly as the mixture blends.  Add more water, a little bit at a time, until the mixture is blended smooth but is still thick like cream.
This cashew cream can be stored in the fridge for up to 5 days or in the freezer indefinitely.