Meal prep is your friend if you're a busy person trying to change your eating habits. Knowing that your fridge is stocked with healthy meals can be a saving grace when you come home hungry after a long day of work and are craving a bowl of sugary cereal or are ready to dive into a bag of potato chips. 
If you make your quinoa ahead of time, this meal will come together in under 30 minutes. It stores well in the fridge for up to 4 days, making it a convenient meal-prep option for a quick lunch or supper.
It's also suitable for gluten-free, vegan, and dairy-free diets. You can make a grain-free version of this recipe by leaving out the quinoa and doubling the veggies.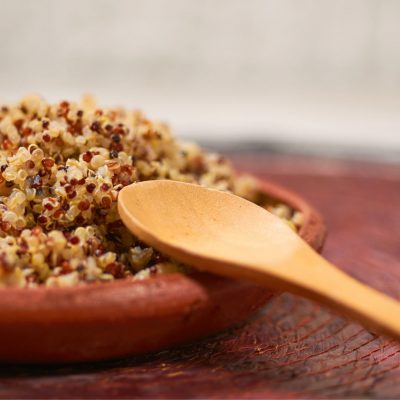 Ingredients:
2 cups cooked quinoa, cooled
1 cup carrots (about 2 carrots), shredded
1/2 cup cilantro, finely chopped
2-4 heads baby bok choy, finely chopped
1/2 cup cashews, chopped or halved
3 green onions, finely chopped
Miso Dressing
3 tbsp miso paste
1/4 cup avocado, sesame, or olive oil
2 tbsp rice vinegar
1 tbsp fresh ginger, grated
1 clove garlic, minced
1 tbsp maple syrup or agave (or honey for non-vegans)
1 tbsp tamari (or soy sauce if not gluten-free)
2-4 tbsp water to thin
Directions:
Wash and chop veggies and add to a large bowl. Add quinoa and stir to combine.
Mince garlic and grate ginger. Add to a small bowl with the rest of the ingredients for the dressing, except the water. Whisk to combine. Slowly add enough water to make dressing easy to pour.
Add dressing to quinoa and veggies and toss until salad is well coated. Sprinkle with cashew pieces.
Enjoy!
Recipe by: Chinonso Miniely