With Hallowe'en approaching, sugary junk food is plentiful and can be challenging to moderate, both for kids and adults. Unfortunately this time of year coincides with cold and flu season, and the increase in sugar tends to compromise our immune function, making us more prone to getting whatever bug is going around.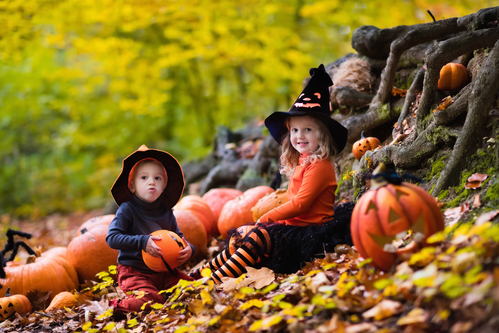 With 2 small children at home, our Dr Michelle Marcoux ND is sensitive to the challenges at this time of year. So here are some strategies to help keep those sugary foods in check without anyone feeling deprived:
The Switch Witch
How the switch witch works in our house: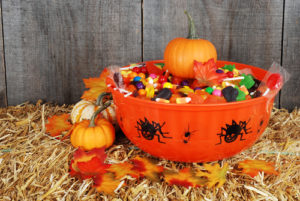 In our house we call the Switch Witch the Great Pumpkin. The kids go trick or treating with their friends but when they bring their bags home, they pick out 5 things they want to keep. The rest is left in a bowl for the Great Pumpkin to take. The Great Pumpkin, similar to Santa, comes while you sleep and trades your candy for toys and healthier treats.
We have been doing this since the kids were little and it works well. They are excited about getting new toys and don't mind giving up most of their loot. Plus they appreciate those 5 pieces that they pick out to keep so much more than if they ate their whole bag of candy!
Healthy Halloween Treats
Healthy Sweeteners
There are sweeteners that support healthy gut, blood sugar, and immune function. I use these more often around this time of year to help minimize the amount of sugar we are exposed to. There are so many treats that happen at school this time of year and because I can't control that very easily, I feel better limiting sugar where I can to compensate. I will usually make cookies or brownies using these sweeteners so the kids have a sweet treat in their lunch and are less tempted by the treats that might be lurking around at school. See below for my freezer fudge recipe that I use for an after school snack. It's healthy, low in sugar, AND delicious.
Yacon Syrup – a liquid sweetener contains prebiotics. Prebiotics are nutrients that feed healthy bacteria in your gut, often abbreviated as FOS (aka: fructo-oligosaccharides). I buy this at Dad's Nutrition OR Sobey's on 8th and Cumberland
Swerve – granulated or powdered; also contains prebiotics to feed healthy bacteria in your gut, as well as erythritol, a sugar alcohol. I buy this at Dad's or Superstore
Lakanto – granulated only; similar to Swerve but does not have prebiotics. I buy this at Dad's.
Xylitol – a sugar alcohol commonly found in gum, mints, and suckers. I usually buy xylitol suckers and gum at Winners or Dad's (see below for details).
Stevia – pure, ground leaf is best but a liquid or powdered extract will do if that's all you can find. I use this the least because I don't care for the after taste.
Healthier Halloween Treat Options
Stevia sweetened chocolate chips (Krisida, Lily's brand are available at Superstore and Dad's Nutrition respectively).
Veggie Straws – contain potato starch, which is a prebiotic. Available at most grocery and health food stores.
Non GMO Popcorn with real butter and salt (or coconut oil and salt).
Lara Bars
Pur Gum and Mints – xylitol sweetened; I buy these at Winners or Dad's.
Glee Gum and Lollipops – xylitol sweetened; I buy these at Dad's (I usually buy them on sale after Hallowe'en so I have them for Christmas and Hallowe'en next year).
Chocolate Swirl Freezer Fudge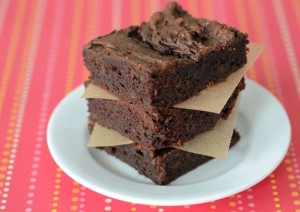 This is a healthy and delicious alternative treat to candy and one kids will ask for often!
Ingredients
1 cup creamy almond butter (unsalted) – any nut butter will do here
¼ cup coconut oil, softened
1 ½ Tablespoons honey (raw if possible) OR yacon syrup
½ teaspoon fine sea salt
½ bag stevia sweetened chocolate chips (Krisida or Lily's Brand are my favourite)
Directions
Line the bottom of a square baking dish with parchment paper.
Melt coconut oil over the stove, then gently stir in nut butter, honey/yacon syrup, and salt. Stir until uniformly combined.
Pour into baking dish and set aside.
Melt chocolate chips in a double boiler until just melted. If you don't have a double boiler (which I don't), set a bowl on top of a pot so it sits without touching the bottom of the pot. Fill the bottom of the pot with about a half inch of water and heat to simmering. Add chocolate chips to bowl and as soon as they start to melt, shut the burner off.
Stir until melted, then drizzle on top of fudge (you may need oven mitts if the bowl is hot). The chocolate should sink into the fudge.
If desired swirl the chocolate and fudge together further with a fork or knife. Place pan in freezer until fudge is set.
Break into bite sized pieces and store in an airtight container in the freezer.
Where to Buy these Health Halloween Options in Saskatoon
Please contact the clinic if you'd like to get some extra support – we can help with your family wellness.