This recipe originally appeared on Elana's Pantry – one of my favorite blogs for paleo baking ideas. No need to sacrifice taste or health this holiday season.
 Ingredients
Directions
In a food processor, pulse together almond flour, salt and baking soda
Pulse in squares of dark chocolate until the texture of coarse sand
Pulse in dates until the texture of coarse sand
Pulse in eggs
Pulse in coconut oil and stevia until mixture is smooth
Transfer mixture to a greased 8 x 8 inch baking dish
Mixture will be very thick, smooth with a spatula
Bake at 350° for 18-22 minutes
Cool for 2 hours, and for an added little touch, melt organic chocolate chips and pour over the top, decorate with crushed candy canes for a little BLING!! 
Makes 16 brownies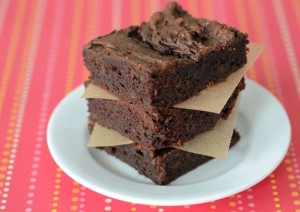 Enjoy these delicious, healthy holiday brownies with this simple recipe!
-Dr. Jacqui Fleury, ND  Clinic Owner and Director