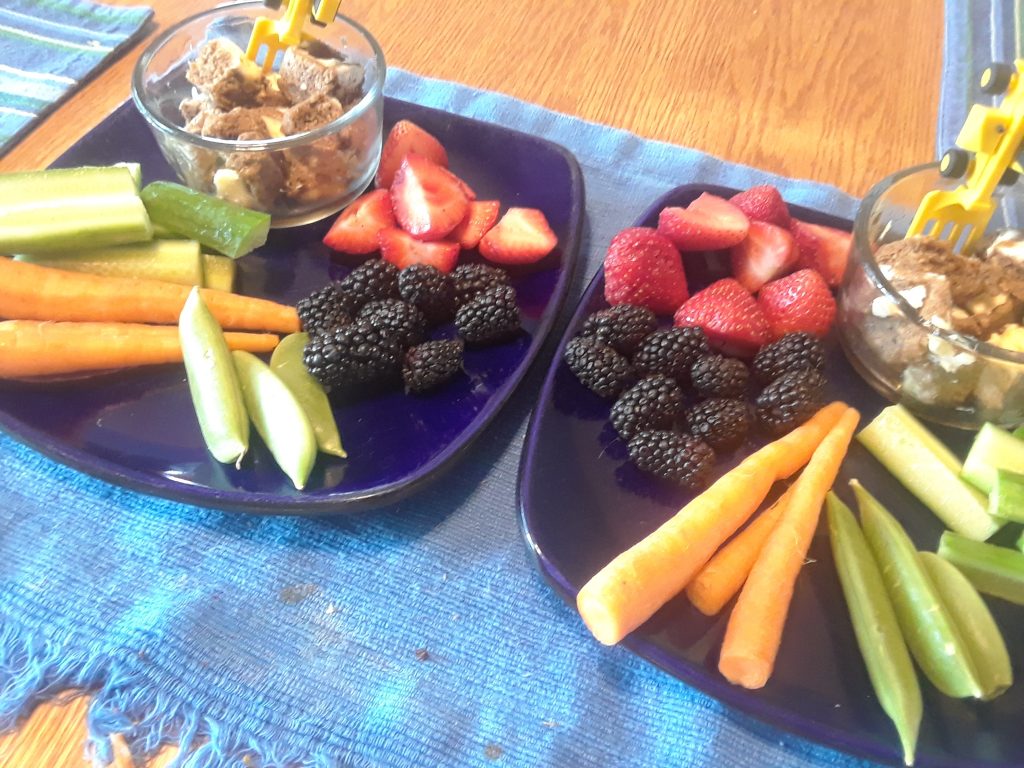 Well, now that I am at home with my kids 24/7 I am realizing how much they eat in a day and how tricky it can be to keep them well-fed and nourished. For some reason this all seemed easier when they were in school and I was at work, and while I'm not sure why that is exactly, I am determined to adapt. My favorite thing about them being home (besides more quality time)? The ability to use almond flour again since none of the food is going to school!! (When they are in school I will grind pumpkin seeds into flour and use that in place of almond flour).
My favorite way to feed my kids is to make them a snack plate with a wide variety of items for them to choose from. I always try to make it colorful and pleasing to the eye so that the kids are more likely to be excited about eating it. I try to always have a good amount of fat and protein, lots of veggies, a bit of fruit, and a minimal amount of healthy carbohydrates (as there are lots in the fruit and veggies already!). My goal is to have at least 2 things from the fat and protein categories, 2-4 from the veggies, 1 from the fruit, and 1 from the carbs (note that some foods fit into more than one category):
Protein snacks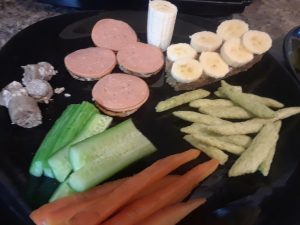 Turkey pepperoni sticks (I like the Free From brand at Superstore)
Leftover sausage or meat from dinner (I get our sausage from Cool Springs Ranch – no fillers or preservatives, good quality meat: www.coolspringsranch.ca)
Homemade sausage patties
Nuts or seeds (sometimes I add stevia-sweetened chocolate chips as a treat)
Dried chickpeas
Pepperoni slices – this is occasional since it's a bit more processed, but sometimes the kids want "Lunchables" so I use these to make cheese and crackers with meat. (I buy the Natural Selections ones at Save On Foods)
Hummus
Hard-boiled eggs
Grain-Free Banana Zucchini Muffins
Grain-Free Granola  – my kids like this with unsweetened, chocolate-flavored, almond milk!
Paleo Bread with butter, or nut butter and a wee bit of jam, or sometimes to make sandwiches
• My favorite paleo bread recipe: https://elanaspantry.com/paleo-bread/
• An egg-free alternative: https://www.mynewroots.org/site/2013/02/the-life-changing-loaf-of-bread/
Cheese slices –This is occasional since we don't eat much dairy at our house.
• I prefer organic, unpasteurized cheese, which you can find at most grocery stores.
• I will use this alone or with meat and crackers to make "Lunchables."
Easy Chocolate Chip Cookies – full of nut butter!
Flax Waffles – https://www.healthfulpursuit.com/2015/07/low-carb-grain-free-flaxseed-waffles; made with eggs and ground flax seed – delicious and high in protein!
Fat Snacks
Hummus – my kids like the roasted red pepper one the best!
Guacamole – I make ours but you can buy this at the grocery store if you prefer
Nuts and seeds
Egg yolks (in the hard-boiled eggs!)
Nut and/or seed butters
No-bake snack balls
Banana Avocado Fudgsicles
Paleo Bread with butter, or nut butter and a wee bit of jam, or sometimes to make sandwiches – see above for details
Veggie brownies with coconut icing  – lots of healthy fat in that icing!
Easy Chocolate Chip Cookies
Grain-Free Granola
Cheese slices (see above for details)
Full fat Plain Yogurt (I buy the Olympic 3.5% organic one) – this is an occasional treat, as we don't eat a lot of dairy in our house.
• My kids like this with a bit of vanilla extract and some sweetener. I use powdered erythritol (usually Swerve) but you could also use fruit, honey, or maple syrup.
• By sweetening it yourself you can reduce the amount of sugar in a serving, which tends to be quite high in flavored yogurt.
Veggie Snacks
(these are the only ones my kids will eat raw):
Cucumbers
Carrots
Snap peas
Celery (with nut butter often)
Cauliflower
Broccoli
Fruit Snacks
(again, these are the main ones my kids eat):
Berries – when in season
Apple slices or applesauce (unsweetened)
Watermelon
Bananas
Carbs Snacks
Bean Chips
Dried Chickpeas
Nud Food Banana Spirulina crackers (I used to find these at Dad's and Superstore, but now I have to buy them online)
Mary's Gone Crackers (usually with nut butter, guacamole, hummus, or meat and cheese)
Rice Crackers (my kids like these plain!)
Barbara's Cheezies or Veggie Straws – these are a very occasional treat that my kids love. They aren't particularly healthy, so I usually save them for special occasions like birthdays or holidays.
Veggie Brownies with Coconut Icing – the yams in this recipe provide some healthy starch here.